Smart connected health device to aid rehabilitation and athlete training
Lyndon Huf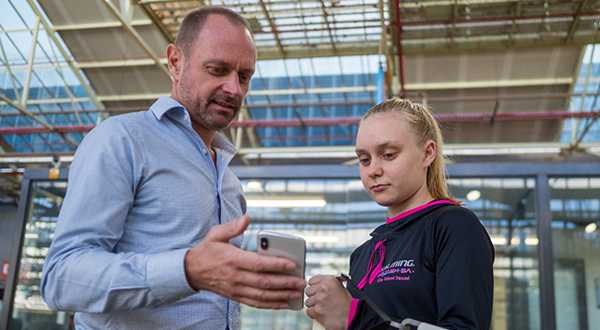 When physiotherapist Lyndon Huf's mother experienced a fall that resulted in ongoing discomfort and issues with her shoulder, an innovative new physiotherapy and professional sport concept was born.
Using his extensive experience in the physiotherapy and sport science spaces, Lyndon formed Prohab, combining a smart sensor that works in real-time with an app (compatible with your smartphones and tablets) that measures the amount of force the individual can produce. Making rehabilitation from injury or surgery safer, faster and more effective.
"While on holiday mum fell badly and tore a rotator cuff tendon in her shoulder," says Lyndon. "My parents live in another state and the physiotherapy exercises she was provided were making things worse."
"As a physiotherapist myself, mum asked me if I could help her out. I thought she was doing too much exercise but there was no easy way to measure this with existing resistance bands, so I created a prototype to measure the effectiveness of each exercise and make better decisions about her exercise dose.
"That's how we came up with the Prohab concept, where people can use the device to measure exercise doses and confirm the best exercise regime tailored precisely to an individual."
Now as the founder and CEO of Prohab, Lyndon's days are focused on communication management and business strategy starting from 5am while he's still fresh. Every day is varied across research and development (R&D), product development, user testing or flying interstate to demonstrate to AFL clubs.
After stints at the Wakefield Sports Medicine Clinic and Australian Institute of Sport as a Physiotherapist and Sports Scientist, in 2008 Lyndon made the move to the United Kingdom to take up the position of Lead Physiotherapist at the English Institute of Sport.
There he led a high-performance team to service Olympic athletes based upon data to deliver evidence-based medicine for the 2012 London Olympic Games, using innovative approaches to challenge existing methods with the latest technology creating a winning edge.
This experience was also pivotal in the development of Prohab and commercialising the concept which helps more people around the world achieve world-class healthcare, as the system has capabilities to support elite athletes to get an easy and clear picture of their performance and any weaknesses they need to focus on.
"My training at UniSA allowed me to spring board to work at the highest levels in the health sector including the Australian Institute of Sport and the English Institute of Sport," says Lyndon.
"During this time, we used data capture and all sorts of innovations to solve problems for sport. I was drawn to the idea of leading my own team one day to solve problems for patients and athletes. I carried this thought with me throughout my journey and I was able to action this later in my career.
"I returned to Australia with a commercial mind-set which has led me into a new area of the health industry. Using this thinking I continue to learn from my peers, particularly through the Future Industries Accelerator.
It was with the help of the South Australian Government and the UniSA's Future Industries Accelerator that Prohab really started to get off its feet and further refine the business.
"My relationship with UniSA has continued through engaging Professor Emily Hilder and the Future Industries Accelerator (FIA) to provide the research and development (R&D) capabilities that internally Prohab could not achieve itself."
"They provided a low-risk process where we could partner with domain scientists to solve the challenges of developing our custom sensors. It has been a brilliant experience to partner with them."
"The UniSA FIA relationship has been a brilliant experience for Prohab and we highlight that industry needs to be aware of the benefits to their business. I encourage industry to engage with them."
Ultimately, Lyndon hopes Prohab will become a commonly used system to help more people meet their rehabilitation or training needs.
"It has taken two years to go from idea to commercial product and this experience trumps any work I have done in the highest levels of sport – it has been such an incredible learning experience," he says.
"This is just the first steps in that direction. We plan to continue our partnership with UniSA to solve our ongoing R&D challenges. It has been a fantastic experience and I'm very grateful and proud of UniSA.
"I'd also like to help others thinking about a similar pathway and how I may be able to help them. I'm keen to 'pass it forward' for any researchers or industry who would like to hear more about and learn from our journey."
Lyndon invites anyone interested in the project to reach out via www.prohab.ai.
Future Industries Accelerator
The Future Industries Accelerator (FIA) drives our approach to partnering and economic transformation. It provides an innovative model for effective and sustainable collaboration between universities and industry.
FIA is a $7.5 million investment from the South Australian State Government, which focuses on creating high-value jobs in South Australia and assists local industries to build their R&D capacity and accelerate growth.
You don't need to have worked with the University before to consider engaging. FIA provides the mechanism to develop a new collaboration, or strengthen an existing partnership, with FII (across multidisciplinary areas including biomaterials engineering and nanomedicine, energy and advanced manufacturing, environmental science, and minerals and resources), and more broadly with research expertise from across the University.
Explore the opportunities to partner with us and discover how we support companies across South Australia via the Future Industries Accelerator.
For more information visit: https://fii.unisa.edu.au/engage-with-us/fia/.