Bringing communities together through socially engaged art
Daniel Connell
Artist
Lecturer in Visual Art, Adelaide Central School of Art
Master of Visual Art (UniSA)
PhD Candidate – Visual Art (UniSA)
The artistic process has always comprised of more than just creating portraits for UniSA PhD candidate Daniel Connell, who believes the relationship between artist, subject and audience should extend beyond an artwork's completion and exhibition opening.
Passionate about interculturalism and connecting communities within the arts space, Daniel's work is a socially engaged practice and he strives to share people's stories through his art and research.
Just this past May, Daniel presented at TEDx Ubud, Indonesia – presented and supported by The Bob Hawke Prime Ministerial Centre – in the hope of spreading his message about fighting against challenges that newly arrived migrants face in their new country and advocacy for displaced peoples to the masses.
His most recent venture, an art project and exhibition curated with Ellen Schlobohm of Tutti Visual Arts, reflects his own work by bringing together Adelaide's Sikh community and Tutti visual artists to create beautiful and meaningful art.
Standing Up, Standing Out, exhibited and sponsored by The Bob Hawke Prime Ministerial Centre and Nexus Arts in June and July 2018, aimed to promote diversity and understanding of the Sikh culture as well as the artistic expression and identity of artists living with a disability.
"Both communities have a strong understanding of what it means to stand up and out in society. We used the turban as a mediating object throughout the project, and the Tutti artists created their own turban artworks with the help of a wonderful group from the Sikh community," says Daniel.
"It's a beautiful exhibition. It's rare to see all these people from the Sikh, Indian and disabled communities brought together – especially in the arts space – there were really beautiful moments where the artists and Sikh community interacted like long lost friends.
"One of the beautiful things about the artists with a disability is they create a very welcoming and honest space where wonderful conversations can take place. That's the ongoing success of projects like this – relationships keep expanding between two diverse groups."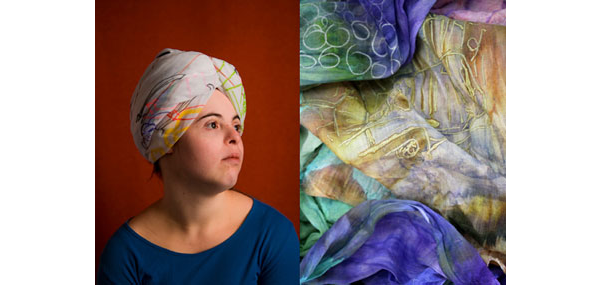 Standing Up, Standing Out
Daniel, who currently lectures in visual arts at the Adelaide Central School of Art (ACSA), has always been a passionate advocator for migrants' rights and for creating understanding and compassion among different cultures. He started this journey after moving to India in 2007 to begin his career as an artist.
"India provided me with a lot of opportunities to experiment with my art and to understand what I was doing and why, which linked me very suddenly with the Indian community," he says.
"When I returned to Adelaide in 2010, the level of migration from India was massive but there weren't many programs to help migrants settle into Australian life. India looked after me so I felt I had to look after the Indian people I met back home."
Upon returning to Adelaide, Daniel studied a Master of Visual Art at UniSA, using portraiture as a catalyst for dialogue between diverse communities. His project Faith in Taxis aimed to create an inter-cultural exchange between Sikh taxi drivers and the wider Adelaide community.
"What really inspires me about the Sikh culture is the concept that each community should stand up for the next and we should all help and look out for each other regardless of our differences. In constructing portraits of Sikh taxi drivers I wanted to establish a human connection between artist and subject, drawing and audience.
"Drawing someone's portrait is just the beginning of the representation process – it's through solidarity that we create art which brings people together in a meaningful way."
After completing his Masters, Daniel wanted to build upon this concept and undertook a PhD to examine his ideas in a more theoretical way, further exploring the role of the arts in building social infrastructure.
"The arts can play a major role in helping people become more invested in the communities we create in Australia. My research isn't just about art as a symbolic act, it explores how art stops being about objects and becomes a pure investigation into ideas and a visualisation of hybridity between people."
A range of different campaigns and groups have stemmed from Daniel's artwork and PhD research, including the initiative Turbans and Trust which Daniel established in 2012 alongside Harjit Singh, who is passionate about helping Australians embrace the turban after experiencing years of racial discrimination.
"Sikhs in Australia know that when they tie their turban, they're going to stand out and be a beacon. It's a lovely and powerful notion not to hide from who you are and to stand for the principle that everyone has the right to be who they are. It constantly inspires me," says Daniel.
In addition to Turbans and Trust, Daniel also started the South Australian Professional Network Association for Migrants (SAPNAM). Composed of around 300 members, the group meets once a month to help migrants get job ready by building resumes and offering mentoring for those just finding their feet in Adelaide.
"One of the biggest achievements to come from my PhD and early drawings from Faith in Taxis is our 'Parent Long Stay Visa' campaign. A group from the Indian community asked for help to change the Visa laws so visiting parents of migrants could stay longer in Australia," he says.
"We developed a policy and plan and were assisted by South Australian politicians until eventually meeting with the Federal Opposition.
"The Labor Party changed their policy after meeting with us, which led the Liberal Party to announce a change too. We actually achieved temporary policy change in both major parties on this issue – the matter is not yet resolved and still ongoing, but I like talking about it because a lot of people think the arts can't achieve anything practical.
"This all stemmed from my drawings, our meetings and my connection with the Punjabi community. We worked very strongly together which was a wonderful experience. The campaign became a force to be reckoned with, which shows that if communities join together, change can happen."
In November 2015, the South Australian Government forged a new sister-state relationship with the Indian State of Rajasthan. With the aim to create a dialogue between South Australian and Indian artists, the Department of State Development asked Daniel to design and lead an Art Engagement Program supported by the State Government and ACSA.
UniSA, ACSA, TAFE and SALA joined together to select artists Jessica Lumb, Zoe Freney and Jake Holmes to travel with Daniel across Rajasthan and Mumbai in November 2017.
"In Mumbai we worked with about 150 children in disadvantaged schools where we did some really amazing work. We held an array of workshops – silk screening, soft sculpture, pot plant holders, vinyl banners – the kids were just beautiful. It was an intense eight days but such a valuable experience to teach these different skills to them.
"Next we travelled to Jaipur where Princess Diya Kumari hosted us and gave us an amazing gallery space. We worked with 14 local artists from all different backgrounds – craftspeople, labourers, senior and emerging artists, people with and without an education – but everyone was placed on an equal platform to aid collaboration.
"From this work we created 47 artworks that are currently being exhibited in Jaipur and will travel to Adelaide to be exhibited at the Hawke Centre in 2019, which is going to be beautiful."
For updates on Daniel's upcoming exhibitions with The Bob Hawke Prime Ministerial Centre please visit the website here.