Happy Holidays from the Vice Chancellor
As this year comes careening to a close far too soon, it's the perfect time to reflect on what a spectacular year our University of South Australia community has had.
It's been an honour travelling the world to meet all of you in your hundreds at our alumni events in places like Sydney, Melbourne, Canberra, Mt Gambier, London, Malaysia, Singapore, Shanghai, Beijing and Hong Kong, and of course all our Adelaide trailblazers as well.
I've loved hearing what you have got up to since graduating, reading your stories and seeing your photos each month in Alumni News, and how you've been putting your education to work.
These networking and reunion events culminate each year in the Alumni Awards where we proudly honour four of our outstanding graduates, relishing the opportunity to celebrate the success of our graduates, honour their achievements, and thank them for what they have done for those around them.
This year, artist and educator, Darren Siwes; entrepreneur and businesswoman, Dr Pauline Wong; Amnesty International Crisis Response Director, Tirana Hassan; and Director-General of Security at ASIO, Mike Burgess, were the stars at our 2019 Alumni Awards Gala Dinner in Pridham Hall, and it was an honour to be in their presence on the night.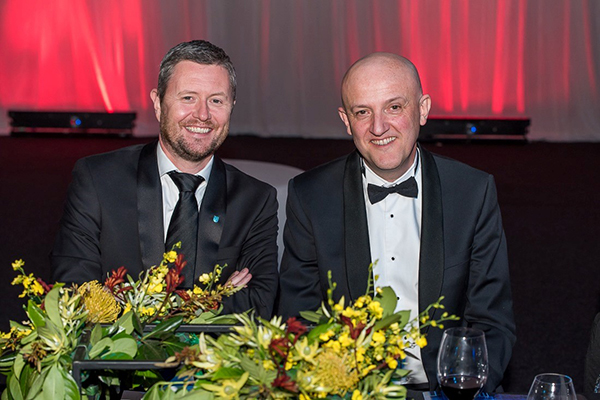 VC Professor David Lloyd with Mike Burgess at the 2019 Alumni Awards
As a graduate of UniSA you belong to a global network of more than 215,000 alumni which extends across 134 countries. Our alumni are very important to us; you are our success stories, the role models for current students and those who might follow in your footsteps.
Make sure you stay engaged and take advantage of our extensive Alumni Network at your fingertips too with the Anne & Gordon Samstag Museum of Art, Bob Hawke Prime Ministerial Centre, Hawke EU Jean Monnet Centre of Excellence, MOD. (Museum Of Discovery), View From the Top, and our exciting upcoming schedule of exhibitions and events for 2020.
As your career grows and your success is assured, current students look at you and see what is possible in their own lives, so please do keep us informed with where life takes you.
It's now time to start slowing down and preparing for the upcoming festive season and as we look back on the year that's been, I would like to extend my sincere thanks for all your support during 2019.
It would not be possible without our cohort of impressive alumni out there changing the world.
Vice Chancellor's 2019 Highlights: