One of Adelaide's in-demand artistic ceramicists you should get to know
Ayesha Aggarwal
Communications graduate Ayesha Aggarwal's creativity is instinctual. She moves easily from one creative outlet to another. At the Wakefield Press she works as a marketing guru, creating interest for the latest manuscripts to hit the shelves. In her spare time she crafts unique, handmade one-of-a-kind ceramics.
"I started work at the Wakefield Press the very same day I went to my first pottery class, so there's a nice symmetry to my two careers," she says.
"I love that I still get to do creative work in my day job but it uses a completely different part of my brain – having that balance is really fulfilling."
Toward the end of her studies at UniSA, Ayesha yearned for a creative outlet. Years were spent experimenting with different techniques.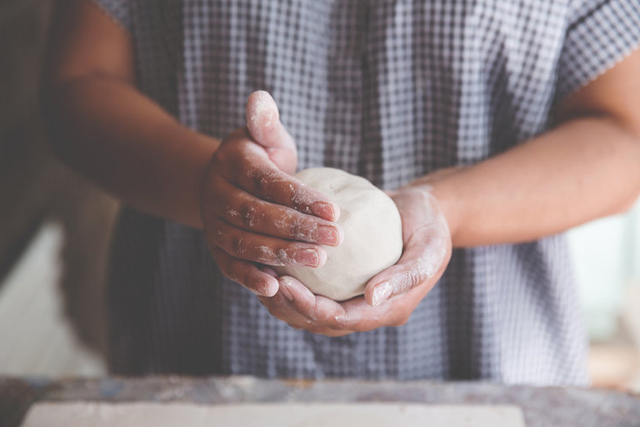 "I've always dreamt of a creative career," she says. "Before I found ceramics I couldn't fathom how I could realistically make a living making art."
"I dabbled in many creative hobbies. I made fabric totes for a while, tried my hand at crochet, made lampshades from slides, embroidered pop culture references that I framed … but nothing really stuck until I finished my first year working with clay".
As a child, Ayesha had always been fascinated by the potters in India. After a year of weekly night classes, that she admits were frustrating at times, she tried her hand at making a vase.
Born in India into a family of women she calls extremely creative, Ayesha was immersed in a life of the handmade, botanicals and artistic expression that continue to influence her work today.
"I grew up listening to conversations about colour, pattern and design. I like to think that I bring all of these conversations into the studio with me," she says.
"I see my mum's love of gardening expressed in my obsession with plants, the patterns and colours of Indian textiles in my bold, graphic designs."
"The second I'd made my first botanical vase I decided to make a commitment to clay," she says.
"I began to feel the excitement of having created something that I really liked. For the first time I felt like I had a product that people might willingly pay me for – and that was pretty exciting."
A combination of wheel throwing and hand-building techniques are used in the studio, but Ayesha works freehand on the final form.
"A pattern forms in my head as I go along so I simply let my hands decide where to apply the colour," she says.
"I strive to make work that is unique to me; that no one else is making. I don't really prescribe to what is trendy, I try to make work that speaks to me and hope that others will feel the same way about it.
"My inspiration comes from the unique shapes and colours of leaves. I'm particularly drawn to Australian native flora with their almost alien like shapes and vibrant colour and to tropical plants, which always transport me to my childhood in India. They translate to pattern so easily in my head."
Photo by Sharmonie Cockayne
Ayesha has also recently turned her craft to handmade ceramic jewellery, experimenting with thinly rolled and hand cut shapes that bring aspects of her wheel thrown work into the design. She intends to keep working and experimenting with clay for as long as it brings her joy.
"Ceramics is still really my side hustle, but it's what I spend the majority of my days thinking about and doing," she says.
"I've often been told that I should outsource my designs for production and get someone else to do the making so that I can focus on the profits, but that defeats the purpose for me.
"I started making pots because I wanted to make things with my own hands and I think that's what makes each creation all the more special."
"As a child I was taught that a handmade gift was of more value than a store bought one. Handmade to me is a sign of care and affection. It feels increasingly important in our throwaway economies.
"I know the curves of each and every pot I make, the marks from where I accidentally nicked them with my fingernails, the slip of my hand where the paint went on a bit too thick. Each pot is a little piece of myself, a labour of love. That's the intimate magic of the handmade."
To learn more about Ayesha's work visit www.ayeshaaggarwal.com. Her work can also be purchased in Adelaide at Urban Cow Studio, The Jam Factory and Art Images Gallery, and in Queensland at Brown's General Store and the store at the Queensland Art Gallery & Gallery of Modern Art (QAGOMA).