Solving big picture health crises in the US
Dr Ivana Stankov
Amid the bitter cold, brutal storms and mountains of snowfall of the Philadelphian winter, Dr Ivana Stankov is busy working away on the Salud Urbana en América Latina (or SALURBAL) Project as a Senior Research Scientist in the Urban Health Collaborative at Drexel University.
The Project focusses on understanding the social and environmental factors of health and disease from deep analysis of Latin America's cities for a healthier future throughout the whole world.
Ivana and her team are currently exploring how various aspects of city living (e.g. transportation, safety, food environments) affect health in Latin America – and importantly attempting to translate this research into policy action through collaboration and partnerships with city governments and NGOs in the region.
This necessary and expansive work has been the culmination of Ivana's career as a social epidemiologist that was kicked into high gear when she received the Maurice de Rohan International Scholarship during her time at the University of South Australia as a PhD Candidate.
The Maurice de Rohan International Scholarship is the legacy of one of South Australia's greatest ambassadors, the late Maurice de Rohan AO OBE. As the South Australian Agent General in London from 1998 to 2006, Maurice was committed to the development of a strong relationship between South Australia and the United Kingdom.
Following his death, the de Rohan family wished to establish this scholarship in recognition of Maurice's passion for building relationships between nations. A number of generous donors supported the family's vision to fund the scholarship for high performing PhD students at UniSA to gain an international perspective in their research.
As one of the first recipients of the Maurice de Rohan Scholarship, Ivana was given a priceless chance to travel to two prestigious institutions; the Johns Hopkins University in Baltimore, and the Brookings Institution in Washington D.C., to expand her research capabilities in public health and social epidemiology, and gain crucial international perspectives.
"Receiving the scholarship gave me an invaluable opportunity to develop a wide range of skills and spend time with one of my PhD supervisors, Dr Ross Hammond, at the Brookings Institution" she says.
"During my visits, I received a lot of support that ultimately helped me advance my PhD which included the development of a model that simulated the travel patterns of commuters in the north-west region of Adelaide."
"I also had the opportunity to collaborate with Assistant Professor Pamela Matson at the Johns Hopkins University School of Medicine on a project focused on alcohol and marijuana use among adolescents."
Ivana says while the wide range of skills she developed was important, the working relationships and friendships developed during her time overseas endure to this day.
These relationships are key since she now lives and works in Philadelphia, just a few hours away from where her scholarship took her, exploring how safety concerns influence commuter behaviour, travel patterns, and air pollution in Latin American cities and the types of policies that might prove most effective at improving the health of residents.
Her PhD supervisor, Dr Ross Hammond, whom she met in Washington D.C. thanks to her Maurice de Rohan International Scholarship, is a consultant on the Project.
"I like being able to engage and collaborate with diverse groups of people that work in public health and beyond, including researchers from different disciplines and backgrounds, as well as policymakers from government and not-for-profit organisations, all tackling the same issues from different angles," she says.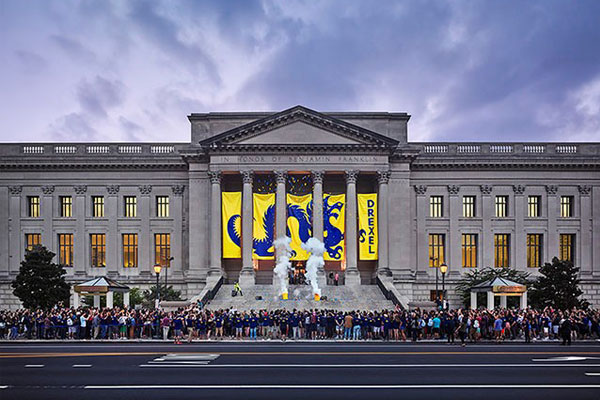 (Image: Drexel University, Philadelphia, Pennsylvania, United States.)
Ivana did not come to public health research straight after university however. She spent at Calvary Wakefield Hospital where she began seeing certain groups of patients admitted and readmitted into hospital with increasing frequency.
This allowed Ivana to grasp how health care and medicine engages people at the individual-level, while often sidelining broader social and environmental factors that influence how people function within society – and the ultimate consequences for health and wellbeing – innately understanding how necessary looking at the bigger picture can be.
"I wanted to better understand these patterns by thinking beyond the clinical setting, to also consider social and environmental factors that shape people's behaviour in their day-to-day lives and ultimately their risk of developing or worsening different types of diseases, particularly chronic diseases," she says.
"The reason social epidemiology is so important is because it considers the wide range of factors that drive health. It deals with health issues such as smoking, cancer, cardiovascular diseases, infectious diseases and motor vehicle accidents by exploring how, factors such as climate change, housing and neighbourhood quality, segregation, diverse forms of discrimination access to healthy food, healthcare and green spaces, predispose and heighten people's risk of developing and worsening various diseases."
"I really enjoy working in an area where I'm contributing to efforts that seek to address important societal issues that affect us all."