A high-flying career breaking ground across the Asia Pacific
Malcolm Lai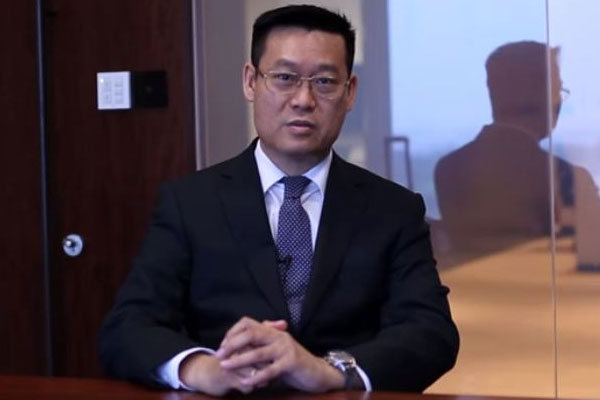 When Australia hit a recession shortly after Malcolm Lai graduated as an Architect in Perth, Western Australia, he decided to try his luck in Hong Kong. Now, almost 30 years later, he hasn't looked back.
"At the time I anticipated that Asia would have great opportunities for my career development," says Malcolm.
Mr Lai's predictions proved correct and shortly after moving to Hong Kong he found work as an Architect. However, after a number of years at various firms in Hong Kong and Singapore, including Sherman Kung Architects, ONG&ONG and Leigh & Orange Architects, he found his enthusiasm waning.
"Whilst at Leigh & Orange I was the Project Architect for the School Improvement Programme for the Hong Kong government – a mass roll out of improvements and expansion works for a series of schools in Hong Kong," he says.
"It was depressing work at some schools, given the size of the school grounds. One school had to chop down the only tree on the school courtyard to make way for an extension of a block of multi-storey classrooms."
It was at this time that Malcolm chanced on an advertisement calling for a Project Manager with an architectural background for American International Group (AIG) Global Real Estate. They were planning a major refurbishment of their historic building on the famous Bund waterfront area in Shanghai. This was the building in which AIG was born back in 1919.
He jumped at the opportunity to extend his career in this new direction. Four interviews later Mr Lai won the job and was immediately posted to Shanghai in 1997.
(Image: The 17 Bund Restoration refurbishment of a historic building on the Bund in Shanghai)
"For six months I was stationed in Shanghai to oversee the refurbishment of AIG's original, heritage listed, 90,000 square foot office building," he says.
"There were some cash flow problems with the main contractor and AIG was intending to terminate the contract and re-tender, which would have meant substantial impact on time and cost. I managed to persuade the management team to stick with the main contractor and reorganised the payment schedule which relieved the contractor's cash flow to enable the project to be completed on time."
It was this hands-on approach that allowed the 17 Bund refurbishment to be finished on time. The experience also led Malcolm to a reinvigorated passion for the industry.
"At the peak of my time at AIG, I managed a team of 16 project managers at AIG Global Real Estate, overseeing the company's assets and third party fund investments in Asia Pacific," he says.
This work included 107 projects with a contract value of around USD$7billion and over 29 million square feet of built area during my 14 years working at AIG.
"During this time, I also chose to go back to University to undertake a Masters in Project Management," he says.
"I chose UniSA as it had a comprehensive programme relevant to the real estate development industry that is highly competitive and was ideal for my career development."
(Image: Sail@Marina Residential Towers in Singapore)
During his time at AIG, Mr Lai also developed a deep interest in green and sustainable building practices. He often speaks at conferences on the topic and many of the projects he has led have achieved gold sustainability ratings, including the AIG Tower in Hong Kong, the Sail@Marina Boulevard in Singapore, and the 5.7 million square foot Seoul IFC mixed-use development.
Planning for sustainable practices has also offered opportunities to ensure projects have been finished to the highest standard, even when issues arise or costs first appear exorbitant.
"For example, for the Nagasaki office project I managed to value engineer the project from the tender to the award of the contractor, saving AIG USD$2.98million and reducing the construction period to 11 months for a five storey 220,000 square foot construction," he says.
"This was mainly achieved by replacing the all steel structure design to a composite concrete/steel structure design which was just as strong but cost less."
Another challenging build was the Royce Residence – a luxury 512,000 square foot residential development in Thailand.
"Our site was around the corner from the ex-Prime Minister's house, which was blocked and barricaded due to the political unrest at the time," he says.
"We managed to complete the development on schedule and to budget in 2012, despite the riots and severe flooding that affected Bangkok during the construction by augmenting labour and resources to catch back the schedule."
Mr Lai stayed with AIG until 2010 when Invesco Real Estate absorbed his business unit after the Global Financial Crisis affected AIG's Asia investments.
"I stayed with Invesco until 2013 when I heard my old boss was putting the AIG band back together at Baring Private Equity Asia – and I've never looked back," he says.
Baring recently closed a USD$1billion real estate opportunistic fund covering investments in the Asia Pacific region.
"I like to keep things low key until they are fully completed, but I can share that the company has some exciting projects coming up – including a cutting edge 36 storey office tower that has just broken ground in Manila, and a very cool high-end luxury residential project in Tokyo that will commence in mid-2019," he says.
(Image: The 5.7 million square foot Seoul IFC mixed-use development)
As for his own personal interests in his work, they come full circle to his time earlier in his career working with the school developments in Hong Kong.
"There is still much income and wealth disparity in the Asia Pacific region where our portfolio serves," he says.
Through a corporate giving structure Mr Lai and his team focus on helping low socio-economic communities and NGOs – such as schools, orphanages and women shelters – to try to make some difference through charitable duties in the countries where the company holds investments.
"Each year we have an annual offsite day where we all dedicate a full day of charity work including repair and maintenance, painting, general construction works and also support through staff donations to the respective charities," he says. "Sometimes we also get to help with practical things like preparing and distributing lunch to school children."
"It is an important aspect of our work as we need to stay humble and well-grounded and give back to the communities that we have derived so much from in our industry."