Delene and John's journey to cure ovarian cancer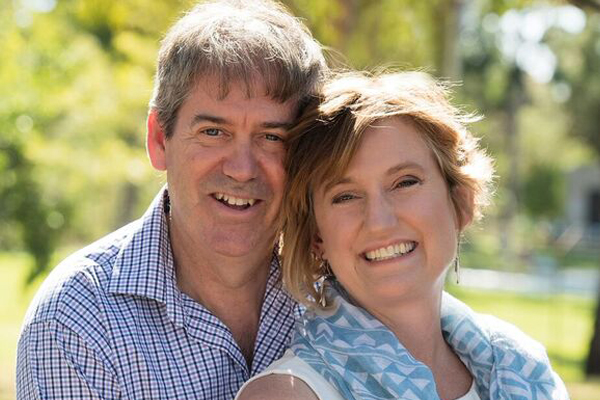 Thirty years ago, while completing Master's degrees at the Southern Illinios University, John and Delene's eyes met across a crowded room, and the rest as they say, is history.
Three decades later, multiple jobs, a couple of different cities to call home, and proud new roles as doting parents to their two children; neither of them could have predicted the rollercoaster they would be on after coming together from opposite sides of the world.
However, four years ago, life undoubtedly took a turn when Delene was diagnosed with ovarian cancer.
John finds it hard to put into words just how tumultuous and daunting the cancer diagnosis was for Delene and their family, but after surgery and two stints of chemotherapy, she is currently healthy and all clear.
"Obviously our lives have changed but Delene is always positive and we work to keep our young kids informed but not anxious," he says.
"The knowledge of the situation is never forgotten though since things like daily medication, the imbedded port, and scars are always there.
"Routine blood tests and scans are now a part of our daily lives, but these sad reminders are always followed by the hope and knowledge that each day is one day further from the original diagnosis that turned our world upside down."
Now, with his whole family's unwavering support, John is joining Tour de Cure's SA Discovery Tour to raise money for vital cancer research at the University of South Australia and the Flinders Foundation, to not only contribute meaningfully to his wife's cancer journey, but to tangibly make a real difference in eradicating the most devastating and pervasive diseases on the planet.
The Tour will take place in late May, with John riding alongside a number of dedicated cyclists, all with a similar goal, to cover more than 350 kilometres in three stages around the pristine wilderness and unspoilt beaches of Kangaroo Island and the Fleurieu Peninsula.
"I'm not looking forward to the way my backside will feel but I am very excited to join everyone and experience Kangaroo Island like never before," he says.
"In a previous life – about 25 years ago – I trained and ran with a group of people to run the Chicago Marathon, while Delene and myself were living in South Carolina, to raise money for leukaemia.
"The entire experience was wonderful and I know the SA Discovery Tour is shaping up to be one as well with the great cancer researchers and projects attached. I can't wait for the challenge."
Joining Team UniSA on the SA Discovery Tour was a relatively easy decision for John after hearing Professor Peter Hoffmann, Strand Leader for Biomaterials Engineering and Nanomedicine at UniSA's Future Industries Institute, and Professor Martin Oehler, Director of Gynaecological Oncology at the Royal Adelaide Hospital will also be riding.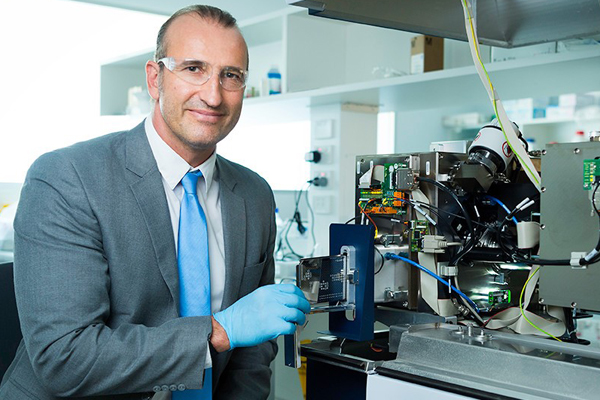 Professor Peter Hoffmann, Strand Leader for Biomaterials Engineering and Nanomedicine at UniSA's Future Industries Institute
Both are key figures in the ovarian cancer research community here in South Australia and funds from the tour will go directly to their research into a promising new early detection test for ovarian cancer to improve the chance of survival for women with the disease by finding it early.
Furthermore, after their studies in the United States, John, originally from a small farming town west of Chicago in Illinois, and Delene, had long careers at the University of South Australia.
John was part of the Centre for Environmental Assessment and Remediation (CERAR) for 12 years and Delene has been a fundamental part of university for more than 20 years as an Associate Professor in the School of Natural and Built Environments, currently doing important research into bushfire survival plans in conjunction with the SA Country Fire Service.
With the couple having been entrenched and involved in research at the university before, they understand the process and know how imperative raising money is for game-changing cancer research, support and prevention projects that will bring the dream of a world without cancer closer to reality.
"We understand that raising money and carrying out research is critical not only for people in the present but for those in the future," he says.
"Understanding genetics and having a young daughter, taking action today may benefit both Delene as well as our daughter, and the future generations of both our children."
To support John and his family on their incredible, personal quest to fund ovarian and other cancer research projects at the University of South Australia and the Flinders Foundation, you can donate to his campaign here.
Want to do your part in eradicating the most pervasive and devastating diseases on the planet? Join the SA Discovery Tour, experiencing the best South Australia has to offer, all while funding vital cancer research and saving countless lives.
As part of Team UniSA, you will be privy to expert fundraising support and one-on-one mentoring, along with a community of supportive cyclists and cancer researchers from all walks of life and abilities along the journey with you.
What: SA Discovery Cycling Tour
When: 23 - 26 May 2019
Where: Return trip from Victor Harbour, to Kingscote via SeaLink Kangaroo Island Ferry. 300 - 450km over 3 stages around Kangaroo Island.
Route Details: https://tourdecure.com.au/tours/sa-discovery-tour/
If you are interested in riding please contact Jacinta Mazzarolo at jacinta.mazzarolo@unisa.edu.au for more information or expressions of interest.